QPPC

promotes construction foil

August 2011 Volume 20 Issue 8 of Gulf Industry Online

It spearheaded diversification into wooden pallets and made a pitch for its construction foil ahead of a big construction boom to come in Qatar

Qatar Plastic And Wooden Products Company (QPPC) is highlighting the quality of its construction foil in the context of a construction boom that is expected to happen in the run up to the soccer World Cup in 2022.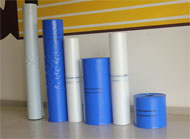 Construction foil is one of several products QPPC makes at its plant in Mesaieed Industrial City near Doha but it is not the fastest selling among the company's offerings. That distinction goes to Form, Fill and Seal (FFS). QPPC, however, is making vigorous efforts to impress upon potential customers the need to use a high-quality standard product such as its own construction foil in preference over substandard commercial ones available easily in the market. 'Most of the construction companies prefer a commercial product with low specifications and lower price without considering the risks involved,' lamented Mohammed A Rahman Hijji, QPPC general manager. 'Thus it is a great challenge for QPPC to address this issue and convey the message to the government and its clients about the importance of using standard construction materials. QPPC maintains its commitment to produce standard high-quality products at reasonable costs.'
Hijji noted there was a lack of stringent construction product standards in Qatar forcing it to bring the issue in focus.
The construction foil QPPC makes is a polyethylene material. It is produced in accordance with the ASTM D4397 standard. The value of permeability to water vapour is reported in the analysis certificate and the product is available as per standard specification or as per the special requirements of the customer. The product also has certification from the Qatar General Organisation for Standards and Metrology. Each roll has its nominal thickness marked out.
As well as FFS and construction foil, QPPC's portfolio of products includes shrinkable film, shrinkable hood, blue and black sleeving, greenhouse and agricultural film, top open bags, heavy duty trash bags and general purpose foil. FFS constitutes 83 per cent of total sales followed by shrink film, 13 percent.
The company's FFS is an important product that can be used on fully automatic or semi-automatic packaging lines with a width ranging from 400 mm to 800 mm, with or without gusseting, and thickness from 30 to 300 microns. The roll diameter is available up to 1,500 mm and printing in up to six colours is possible. It is also possible to do embossing or to print antiskid for perfect stability of the packed goods on pallet.
Production process
QPPC products are extruded in modern blown film lines with all operations controlled by a sophisticated computerised system that automatically checks the recipe, and the thickness and width. Printing is done using flexographic lines of up to six colours, which ensures excellent printing quality. The printing lines are provided with a controlled winding system to ensure consistent tension in winding from beginning to end thus eliminating problems such as film blocking.
After testing by the quality control department, an analysis certificate with data detailing the composition, dimension and mechanical properties of the product are provided at delivery. Safety data sheets and a certificate of conformity are also supplied.
The volume of production at QPPC has been on the ascendant, the 2010 level being 8,200 tonnes against 6,600 tonnes in the previous year and 6,500 tonnes in 2008. Recently, the company completed a modification to one of its extrusion lines die head inner mandrel. A new flexographic printing line worth more than QR4 million ($1.09 million) was installed and commissioned in May of this year.
QPPC reported sales of QR60.2 million in 2010 and expects to reach QR75 million this year. Most of QPPC's products are consumed within Qatar with Qapco and its subsidiaries being major users. Exports go to other Gulf states and Europe.
Diversification
One of the major developments of recent months was a proposal by QPPC's management to set up a plant that will be able to manufacture 1.6 million wooden pallets along with a heat treatment facility. The plant would serve the wooden pallet requirements of Qapco, Q-Chem 1 and II, Qatofin and the soon to be built Qatar petrochemical complex. QPPC's shareholders - Qapco, Qimco and Febo, each of whom has a 33.3 per cent share in QPPC - accepted the proposal and Qatar Wood Products Company (QWPC) was formed.
QWPC has the same shareholders as QPPC with the same shareholding pattern and production is forecasted to begin by the end of this year.