QPPC

supplies major customers

Sept. - Oct. 2001 Volume 10 Issue 5 of Gulf Industry Online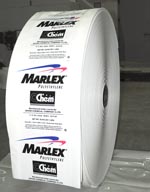 Qatar Plastic and Wooden Products Company (QPPC) is considering an expansion to meet the requirements of Q-Chem, which is expected to come on stream in the third quarter of 2002. QPPC, which started commercial production in August 2000, is the first of its kind in Qatar to transform polymer into industrial packaging products such as foam, fill and seal (FFS), shrink and agricultural films, construction foil and open-top bags.
"QPPC has undertaken a market survey, locally and regionally. The results show it can stand competition because of its top quality as well as best prices," it said. "Agreements were signed with local customers to supply their needs of QPPC products. Within a short time we have supplied construction foil to major contractors in Qatar." It also announced it had obtained qualification for use of its products in the GCC states and was expected to have its ISO2000 certification finalised in October.
The company was established by Qapco, Qatar Industrial Manufacturing Company (Qimco) and Italy's Febo at a project cost of QR32.2 million ($8.8 million) financed through a share capital of QR16.2 million and a debt of QR16 million. The plant facilities are at Mesaieed.
Qapco supplies LDPE to QPPC, thus boosting the per capita consumption of polyethylene in Qatar. On the other hand, around 70 per cent of QPPC production is absorbed by Qapco under an offtake agreement. The balance is sold in Europe and other markets with Febo's assistance.
QPPC has the capacity to produce annually more than 3,000 tonnes of FFS films per year and more than 1,300 tonnes of shrinkable films (construction and agricultural).
"Products are extruded on modern blown film lines and all operations are controlled by a sophisticated computerised system that automatically checks the thickness and width of the film. The products can be produced from different kinds of components to satisfy customers' requirements.
The printing, undertaken in a maximum of four colours, is performed on a technologically advanced printer which ensures enough quality of printing standards," said a company spokesman.
"This printer is provided with a controlled winding system to ensure constancy of tension in winding from the very beginning to the end, thus eliminating problems such as film blocking." QPPC said all the raw materials it uses measure up to international requirements on safety and the environment.
The FFS film is produced using different components. The width is up to 800mm, with or without gussets, thickness up to 300 micron; inner core 152 mm diameter and maximum roll diameter 1500mm.
Printing in up to four colours can be done on both sides with the possibility of embossing or print antiskid for stability of the packed goods on pallet. Packaging is done on three rolls/pallets or in accordance with the customer's needs.
The shrinkable film is available in a total perimeter of up to 6000mm with gusseting. The roll diameter is up to 1000mm and the inner core diameter 76 mm. The roll length of agricultural films is provided upon customer's specifications with the size up to 5.5m and maximum thickness 200 microns and inner core diameter 76mm.
The construction foil comes with an inner core diameter of 76mm and can be produced with first-grade raw materials or recycled materials.
The customer specifies the length with the size starting from 1m full open up to 5m full open. The maximum thickness can go up to 500 microns for sizes up to 2m full open. Sizes of open top bags are between 400mm and 730mm with maximum thickness at 200 micron.