QPPC

is now up and running

Jan. - Feb 2001 Volume 10 Issue 1 of Gulf Industry Online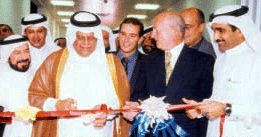 Qatar Plastic Products Company (QPPC), inaugurated in late November 2000, is committed to a long-range supply contract with Qatar Petroleum Company (Qapco) which will use 70 per cent of the production. The new company is equally owned by Qapco, Qatar Industrial Manufacturing Company (QIMC) and Febo of Italy, each having 33.33 per cent of the shares.
The total cost of the project was $9 million, of which 50 per cent was paid by the partners and 50 per cent by Banque Paribas, Doha.
QPPC was actually established on September 19, 1998, and commercial production commenced in August 2000. It is one of the biggest downstream industries realised by the oil and petrochemical industries in Qatar. It is also the first of its kind in the country to transform polymer into packaging materials such as FFS and shrink films.
The factory uses the German-made machinery Windmoller, which QPPC said was the best of its kind in the world. The operational and production expertise is Italian with two advanced technologies being used - multi-layer and mono-layer. "This makes the plant well prepared for competition," said QPPC.
The entire raw material used in production is sourced locally. Qapco supplies polyethylene to QPPC, thus boosting the per capita consumption of polyethylene in Qatar. The plant annually produces more than 2,700 tonnes of FFS films, 2 million x 25-kg bags, 700 tonnes of shrinkable sheets and 500 tonnes of recycled polyethylene.
QPPC explained that its core business was developing and manufacturing flexible packaging, utilising LDPE resin. It would ensure that Qapco and other polyethylene resin producers became self-reliant for their packaging needs. It would also minimise waste, making it an environmentally friendly industrial company while maintaining a competitive position in the market and continuously reviewing and improving work procedures.
FFS (form, fill and seal) films are used in FFS bagging lines to bag solid products such as polyethylene expanded clay and fertilisers among other things. It is a versatile type of packaging that is very economical for the end-user. It is made into rolls and reduces maintenance and production costs of polyethylene resin producers.
QPPC can produce the film with gusseting or as flat tubular, possibly with embossing or antiskid properties to ensure better stability of the pallet.
The company also produces FFS film with different compositions and different sizes and thickness and with more than three colours to satisfy the market's needs.
Top open bags are used in the bulk handling of various materials. These bags have a very wide range of applications in the petrochemical and other industries.
Shrinkable film is used for shrink covering the palletised product to ensure stability during transportation.
The equipment purchased from Windmoller & Holscher, Germany, consists of three FFS bag-manufacturing units, a shrink-wrap manufacturing unit, a printing unit and a recycling unit.
"Investing in such state-of-the art production equipment is a major key to the company's success," commented QPPC.
While 70 per cent of production is being consumed by Qapco under an offtake agreement, the balance of production is to be marketed in Europe and other countries by QPPC with the assistance of its partner, the Italian company Febo.
In order to minimise the impact on the natural environment, a waste recycling unit has already been included in the equipment. It is designed to recycle waste polyethylene products and convert them into a usable product.
Qatari Minister of Energy, Industry, Electricity and Water Abdulla bin Hamad Al Attiyah, who inaugurated the company, said in a speech that the plant was a prime example of the positive results that could be achieved through joint co-operation between the private and public sectors.
The venture, on the one hand, had succeeded in attracting foreign investments and expertise and on the other hand had been successful in utilising local potential with the aim of bringing about industrial integration, Al Attiyah said.
He called upon the commercial and industrial community to strive towards establishing more such joint ventures in order to reduce imports and raise the quality of national products.
The plant would have to develop to meet the requirements of Q-Chem Company, which was expected to start production in 2002, said Al Attiyah. The minister also remarked that Qatar was witnessing a marked emergence of medium-size industries especially after the production of nitrogen.